Patch Management for OIT Supported Windows Workstations
Effective Monday, October 10, the Office of Information Technology will begin automated patch management for OIT Supported Windows Workstations using PatchMyPC (PMPC). Using PMPC, OIT can update supported applications on UA machines, preventing applications from sitting dormant and possibly leaving vulnerabilities open.
Updates will be automated and will run as computers detect available updates. User's applications that are closed and not in use will be updated in the background without the user noticing. Any application that a user has open but has not updated will trigger a PMPC "conflict" pop-up on the bottom right corner of the screen that looks like this: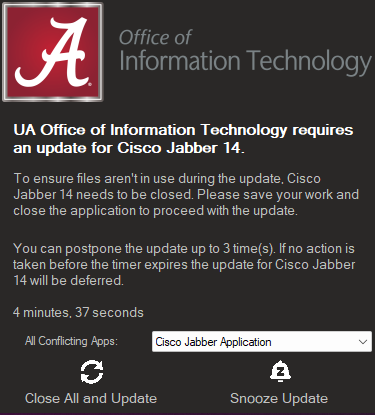 The pop-up will provide clear instructions for updating the opened application. Users will be given the name of the application that is trying to update, how many times the update has been postponed, how long they have until the update is postponed if they do not answer, and two options of "Close All and Update" or "Snooze Update". If the user does not respond in the time that is given, then the update is automatically postponed. If the user has previously postponed the update three times, and does not respond to the pop-up, PMPC will automatically close the application and update it.
If an update closes a user's browser and multiple open tabs, the users can press Ctrl+Shift+T simultaneously to open previously opened tabs in the updated browser.
Automated patch management for all UA-net devices will take place later this year. Users will receive further communications prior to that implementation.